Mold Making
Our molds are made to American standards and have full support from our Utah shop.
High quality molds – class 101, 102, or 103
We build class 101, 102, and 103 molds, based on customer's requirements. Our class 101 and 102 molds are built to run millions of cycles. To help us achieve this, we use high quality tool steel, analogous to S7 and H13; cavities and cores are heat treated to 48-52 HRC, and the A and B plates are heat treated to 40 HRC, to produce quality tools that will last. Moreover, we tailor our mold design to customer's specifications. For example, cavities, cores, slides, wear plates, etc., are made from materials specified by the customer.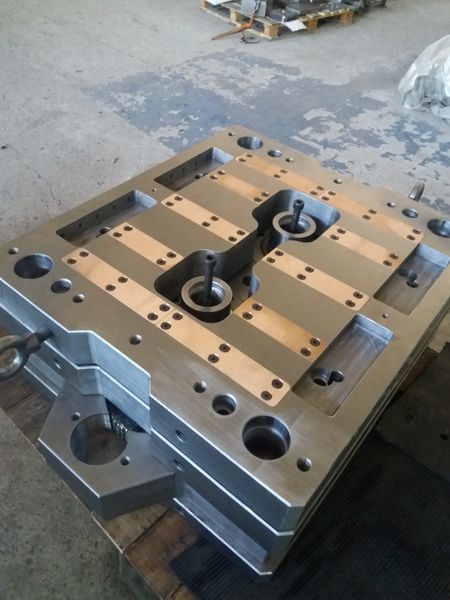 Complicated parts – no problem
We have designed and built many complicated molds with various part release actions. We have built numerous molds with multiple cams (slides), unscrewing cores, lifters, and various combinations of these actuation components. Moreover, we have built molds for parts that range from small, intricate consumer products and medical devices to large industrial parts. Our shops can build molds ranging in weight from 80 pounds to three tons.
Standard components – easy interchangeability
All molds are designed and built with standard components, such as SAE screws, standard ejector pins, standard leader pins and bushings, standard guided ejector bushings, etc. Moreover, while we make our own mold bases, our molds are typically based on standard (D-M-E) mold base sizes. We are, however, happy to build the tools to customer's specifications.
In-house mold design capabilities
We have internal mold design capabilities and quote tools including mold design. We provide full 3D mold model for customer's approval. Having an in-house mold design team allows us to start cutting steel quickly, to stay on top of our deadline and get the molds done as soon as possible.
No time lost in transit
Most molds ship via airfreight–we quote the tools delivered to an international airport in U.S. of customer's choosing and customs cleared. No hidden fees or additional charges, the customer simply picks up the tool at the cargo terminal. Delivery takes one to two weeks, and does not affect the overall lead time.
Full support stateside
Vast majority of our molds are made for U.S. customers. Our machine shop in Salt Lake, Utah provides full support for all of our molds stateside. Whether it is warranty repair, modification, or a repair of a damage, you can be sure that we will take care of your needs for the life of the mold.